Tactical Vision system is a new feature for FC 24 that allows you to customize how your team plays based on predetermined tactics that replicate the most popular styles of play we see in real life. So, it is essential to understand Tactical Vision and how it works in FC 24. If you need help understanding them, this guide can help.
There are seven tactical visions in FC 24, including:
Standard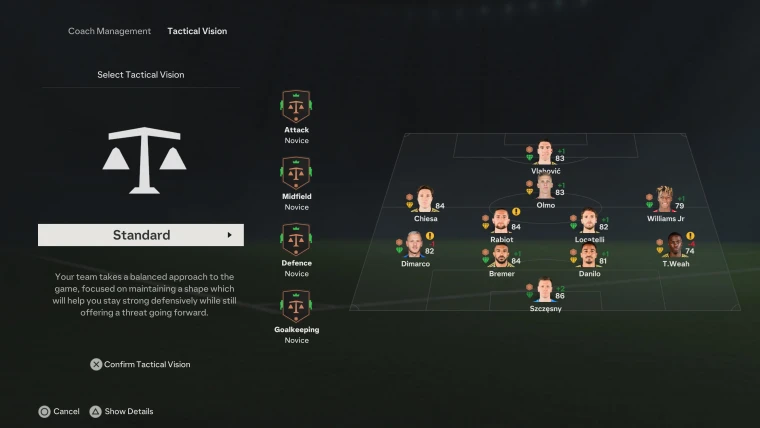 Standard is a basic tactical vision, which is a bit of balance between both defense and attack. With this tactical vision, your team is neither passive nor aggressive and plays while maintaining its formation shape and tactics.
Wing Play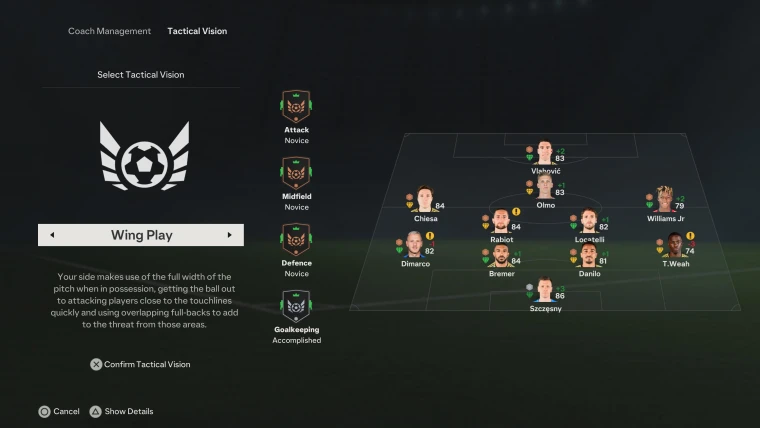 As the name suggests, wing play utilizes the winger position primarily. It emphasizes taking the attack down the wider positions to create more chances while the defenders overlap. If you focus on wing attacks and then deliver the ball through accurate crosses, wing play can be a suitable tactical vision for you. Players with good Pace and Physical ratings are suitable for this tactical vision, like Mohamed Salah(283,000 FUT 24 Coins), he has several great stats, but he truly stands out for his pace, dribbling, and goal-scoring abilities.
Tiki Taka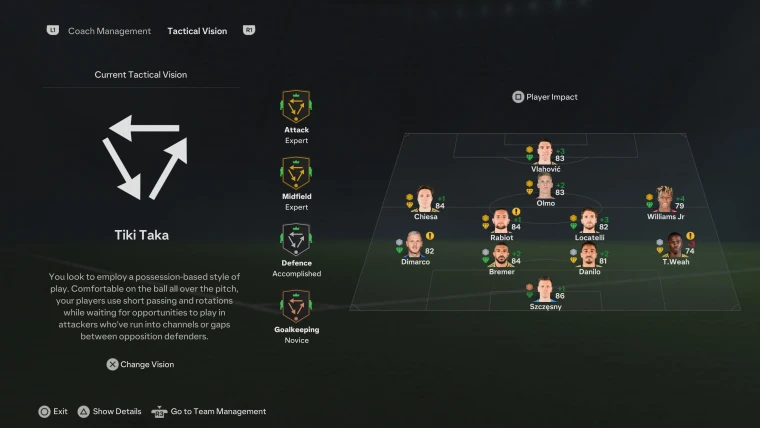 Tiki Taka is mainly based on possession and passing. It keeps the shape of your formation while the players maintain the possession through successive short and quick passes between them as they slowly initiate the attack. You will need your attackers to create some gap or be in the proper position to receive the ball inside the box or in any scoring position. Players with decent Passing and Dribbling skills are the perfect pick for this vision.
Gegenpressing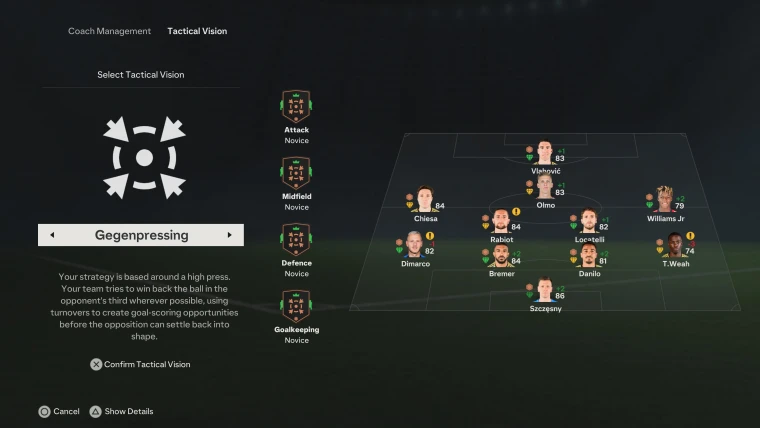 Gegenpressing is an aggressive tactical approach that focuses on heavy presses on opponent players while they are in possession. Most of the time, two or three of your players surround the opponent player with the ball and continuously keep pressing to recover position as close to your goal. You will need players with heavy Pace and Physical ratings to implement this tactical vision.
Counter Attack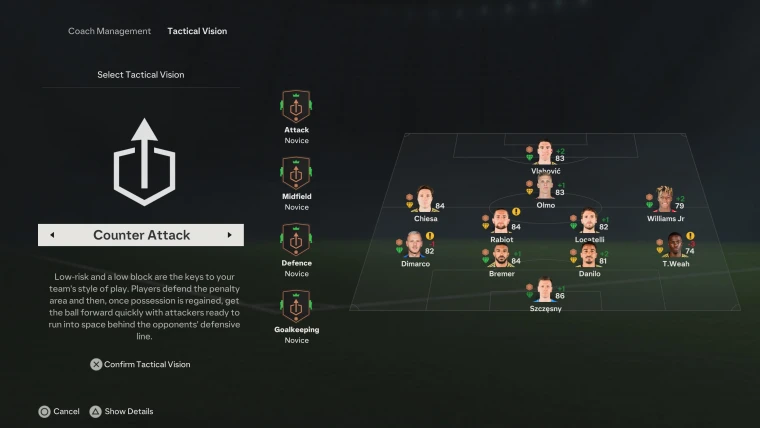 Counterattack is mainly a defensive style of play. Your team's defense focuses on maintaining their shape and continuously presses and tries to block channels of opponent attack. Once your team recovers the ball, they will quickly move it up to the pitch through the gaps created by your opponent's defense line. Counterattacking requires you to have players with heavy Pace and Dribbling skills.
Park the Bus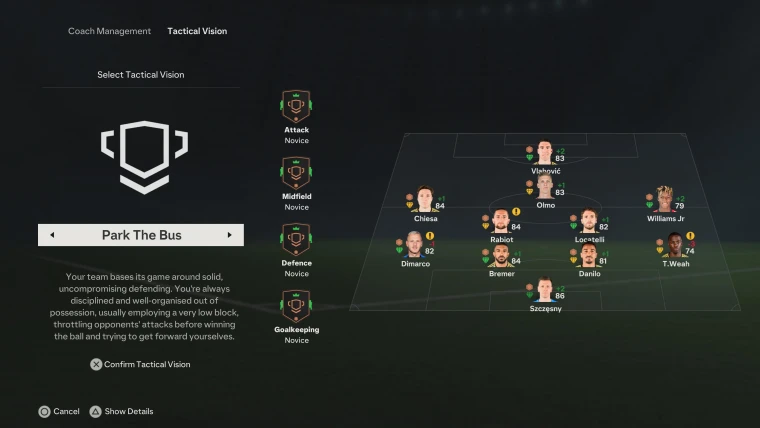 Park the Bus teaches to base the game around solid, uncompressing defending. You learn solid game tactics, how to keep the ball in your possession, and the discipline system in the field, which is essential. While you can surely stop your opponent from scoring through this tactical vision, it also limits your chances of scoring since most of your players are focused on the defense line and maintaining its shape. Players with Defending and Physical skills are suitable for this tactical vision.
Kick and Rush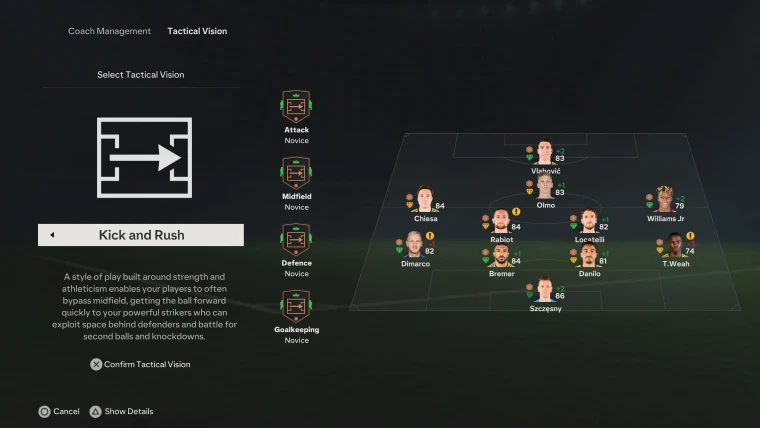 Kick and Rush require the strength and athleticism of your players. The tactical vision primarily focuses on passing the ball over the defense directly to your attackers through long passes. With this style of play, you will need a pacey attacker who can reach the ball faster than your opponent players. The Kick and Rush tactical vision can be implemented with a squad of players with enough Passing and Physical ratings.
The very first thing to do if you want to find the perfect tactical vision for your squad is to examine your squad. Look at your squad depth, and try to find the most common tactical vision that the players have in your squad. If your team is full of high physicality and aggressive players, Gegenpressing is the right vision for you. If your team has many players with passing and ball-control stats, you can go with Tiki Taka.
That's all there is to know about EA Sports FC 24 Tactical Visions. For more, take a look at our game hub U4gm, such as the FC 24 FUT Packs List.