In NBA 2K21, when you pair a Dynamic Duo card with his "Duo Card" in your lineup, both players will receive a boost to some of their attributes and badges, provided that the two are real-life teammates in the NBA. But who are the best MyTeam Dynamic Duo card combos? Here are our rankings of the best MyTeam Dynamic Duo combos for NBA 2K21.
Lakers – LeBron James/Anthony Davis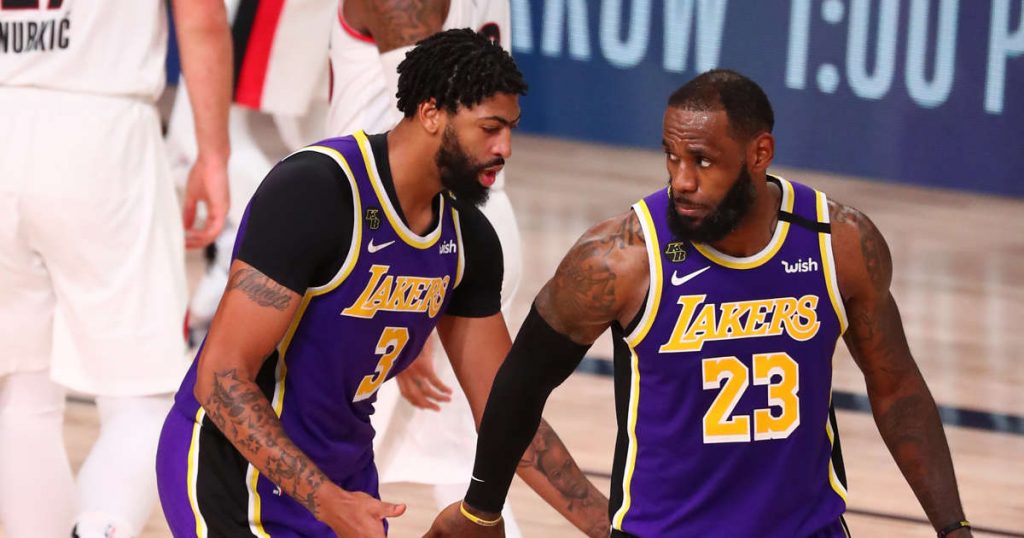 The top duo in NBA 2K for the second year running is LeBron James and Anthony Davis, and with good reason.
Under the two of them's leadership this season, the Lakers played 49 wins and 14 losses, ranking first in the Western Conference. James is the hottest regul5ar-season MVP this season, averaging 25.7 points, 7.9 rebounds, 10.6 assists, 1.2 steals, and 0.5 blocks per game. Davis is the hottest defensive player, averaging 26.7 points, 9.4 rebounds, 3.1 assists, 1.5 steals, and 2.4 blocks per game.
Both James and Davis' base cards are 90 OVR in MyTeam, and each part of this dynamic duo is well-balanced. James is an all-around beast (83 PLY, 81 ATH, 80 DEF), while the 6'10" Davis should get plenty of rebounds and layups.
With only seven base cards that are 90 OVR or better in MyTeam, it's hard to do much better than James and Davis if you can get them.
Clippers – Kawhi Leonard/Paul George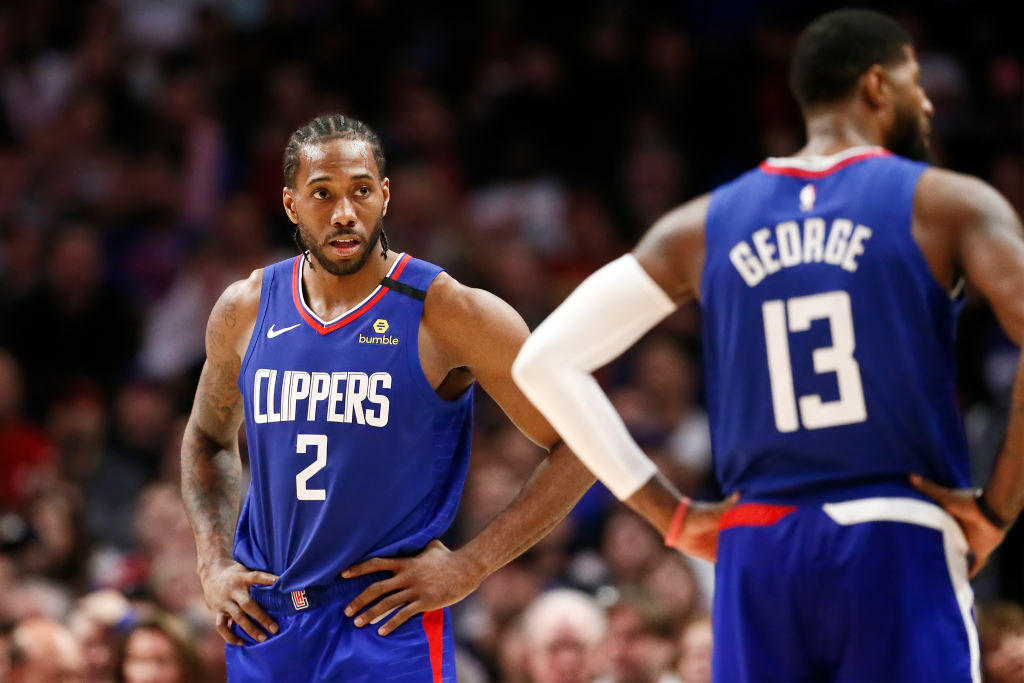 The top tandem of wings in the league, Kawhi Leonard and Paul George, finished as the No. 2 duos in NBA 2K21.
This season, Kawhi Leonard averaged 26.9 points, 7.3 rebounds, five assists, 1.8 steals, and 0.6 blocks per game. On the other hand, George, although his stats have dropped significantly, and even his performance in the first round of the playoffs is very eye-catching, no one dares to ignore his ability.
Leonard and George possess elite defensive abilities to go with their efficient scoring touch from three, midrange, and around the paint and should have the Los Angeles Clippers sitting among the NBA's top contenders for seasons to come.
Rockets – James Harden/Russell Westbrook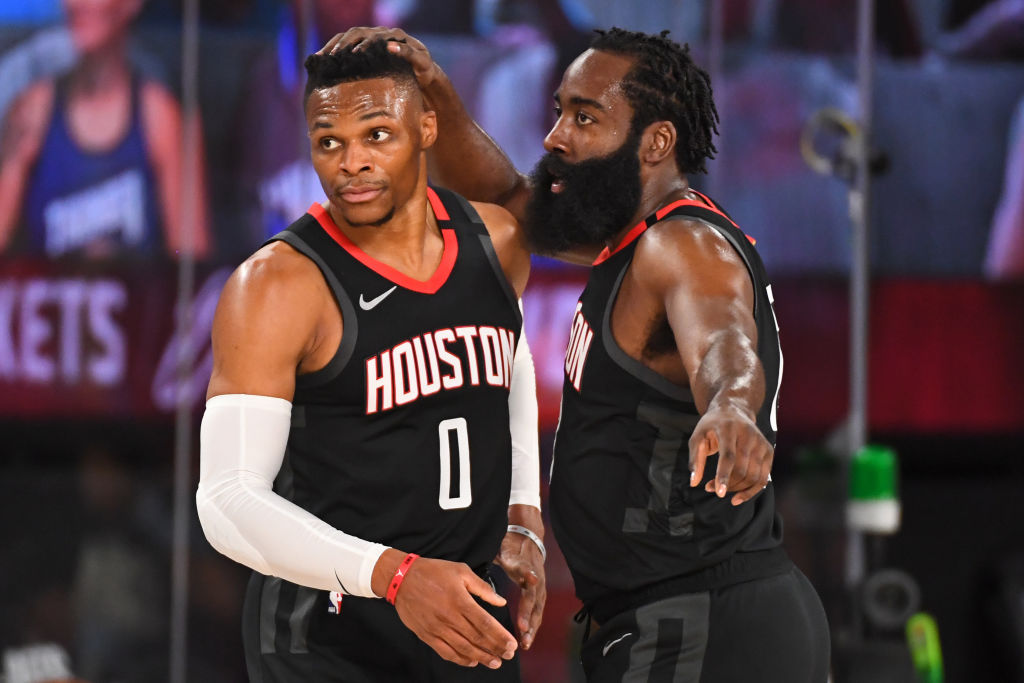 One of the two best backcourts in the NBA, per 2K21 ratings, James Harden and Russell Westbrook each have a league MVP trophy to their name, and both are capable of dropping 40 on any given night.
Harden has great shooting (82 INS, 82 OUT) attributes and a strong Athleticism (85) rating. And as for Westbrook, he can be both a threat when passing (85 PLY) or shooting (79 INS).
Warriors – Stephon Curry/Klay Thompson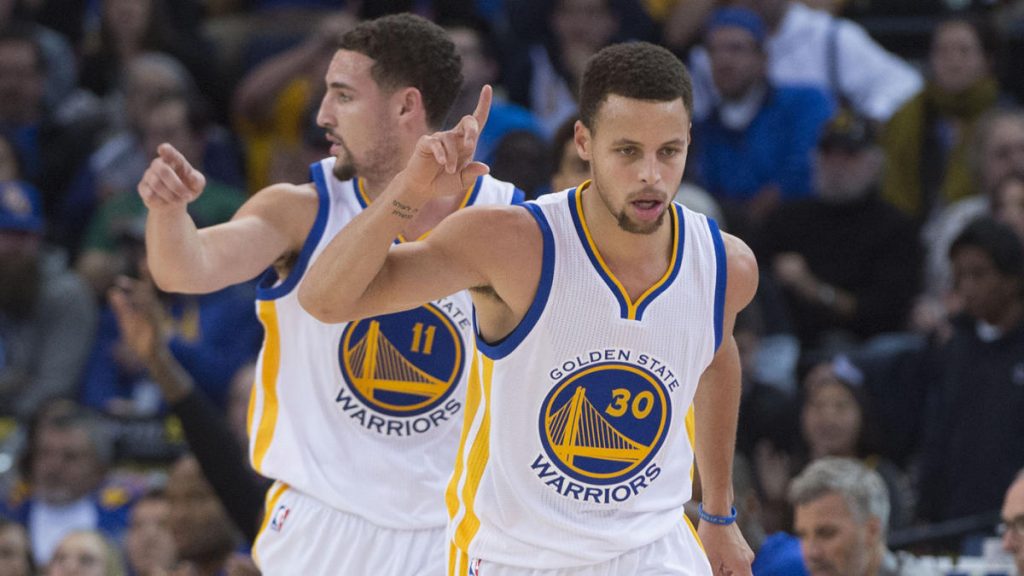 The Golden State Warriors are coming off a terrible season. Still, with their dynamic tandem of Steph Curry and Klay Thompson set to make their return next season, they should get right back into the Western Conference playoff picture with aspirations that may be even higher than that.
Curry has some of the best outside shooting attributes (88 OUT) and amazing playmaking (88 PLY) ability. Thompson, meanwhile, is a strong defender (84 DEF) and can finish passes that he receives from his partner in crime. The greatest shooting backcourt basketball has ever seen, Curry and Thompson are a nightmare for opponents to defend.
Nets – Kevin Durant/Kyrie Irving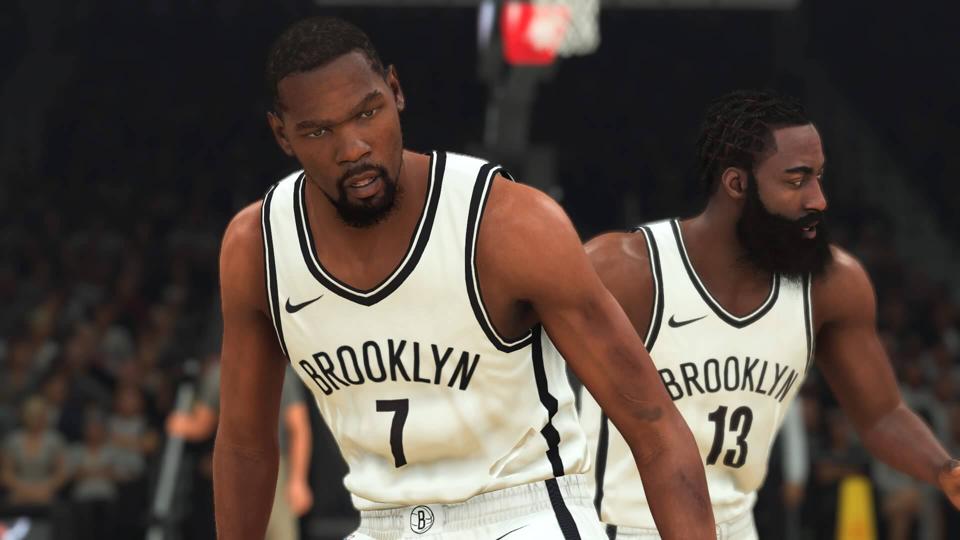 We haven't even seen them play a minute together yet, but the excitement for Kevin Durant and Kyrie Irving next year is palpable, as the duo should be among the best in the NBA right off the bat.
Two-time NBA champion Kevin Durant can do it all, as he's a talented shooter (79 INS, 83 OUT) and a solid defender (74 DEF). Kyrie Irving should set up Durant quite nicely, thanks to his great playmaking (86 PLY) ability).
Two players capable of scoring from all three levels at an elite clip who have experience taking occasional backseats to other superstars from their time on other teams, Durant and Irving will make the Brooklyn Nets must-watch TV from Day 1.
The above is the best MyTeam duos in NBA 2K21. Welcome to use! Of course, you need to spend some NBA 2k21 mt coins, but you can buy cheap mt through u4gm.com while enjoying fast, safe, and high-quality service!