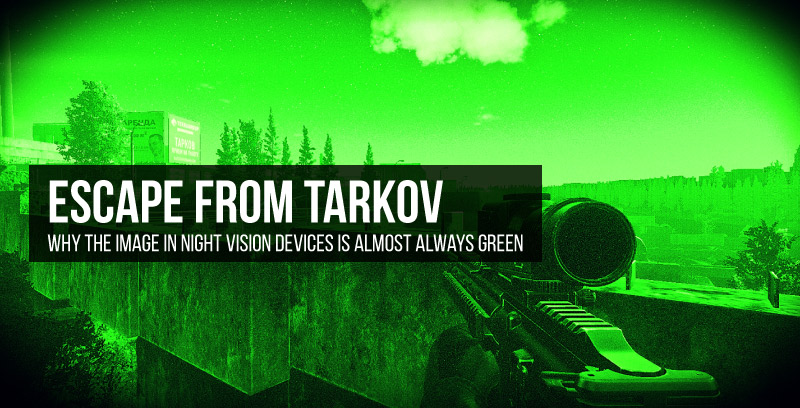 Probably, many have seen in war films and hardcore shooters like Escape from Tarkov what the environment looks like in night vision devices. In Escape from Tarkov, night vision is a very important piece of equipment for night operations. For some reason it is green. We'll tell you why.
---
Why is the image on a night vision device most often green and not white or red?
The characteristic green tint is present in the image for a reason. First, device manufacturers experimented with several different colors and found that the different hues that make up a monochrome night vision image are most accurately perceived and distinguishable when they are green.
The second reason: the human eye can distinguish more shades of green than any other color, which makes it easier to see objects in the image.
The third reason: the human eye gets tired less from green than from white.
---
Zero-generation night vision device
The first night vision devices were developed in Germany back in the mid-1930s. The Red Army also used "zero generation" night vision equipment even before the outbreak of World War II.
The "zero generation" devices were installed on heavy equipment or on telescopic sights. One of the most famous is the Ts-3 sight for the PPSh-41 submachine gun, which was developed and put into service in 1943. The sight consisted of an electro-optical converter with an optical sight and a set of infrared illuminators. Together with a battery, such a system could weigh several tens of kilograms.
The massive device sent out a beam of infrared light that bounced off the surroundings and hit the lens of night vision devices. In addition to the weight of 30-40 kilograms, the device had other disadvantages: the enemy could detect infrared radiation using special equipment.
---
First generation night vision devices
The "first generation" night vision used electro-optical converters that amplify the input signal hundreds of times. Similar devices were used by the American military during the Vietnam War and were called "starlight scopes." The point is that these scopes literally amplified ambient light (usually from the moon and stars, hence the name) and created an electronic image of the dark area. Such devices no longer needed infrared radiation.
Low-cost night vision devices still use "first generation" technology. The systems used by today's military are more advanced. However, the principle of their operation is not very different from earlier models.